July 6, 2022 | By Daisy Luther |  The Organic Prepper | Self-Reliance and Skills Archives |
If you aren't already living on your dream acreage in the country, you may need to settle in for the long haul wherever you are. I've written many times about the importance of "blooming where you're planted" – heck, I even created a course about it. But with our current economic situation, you may need to get serious about prepping in the city or suburbia if that's where you happen to be.
I've lived a whole lot of places – way out in the boondocks, on a little homestead, in suburbia, in Europe, in Mexico, and currently, in an apartment in a large city. In each and every one of those homes, I prepped to the best of my ability.
And that's all you can do. You have to be realistic and know that there's only so much that you can manage. With that being said, here are my tips for prepping in suburbia and in the city.
Make the most of your space.
Whether you live in a suburban house or a big city apartment, you may find that your space is far more limited than our country-dwelling counterparts. That doesn't mean you can't prep, though!
If your home is on the smaller side, it's important to make the most of every inch while avoiding making your place look like a bunker. Store things under, inside, and behind your furniture to get the most storage bang for your buck. Get some attractive containers to put on top of your kitchen cabinets and take your storage all the way to the ceiling.  Keep track of where you put things, however, so you can find them when you need them.
Here are some articles to help you make the most of your space, no matter where you live.
Grow what you can.
I've had everything from a small farm to a small patio in which to raise food, and the important thing is to do what you can. I'm currently growing tomatoes, jalapeños, bell peppers, squash, three kinds of beans, and lots of herbs on my tiny patio.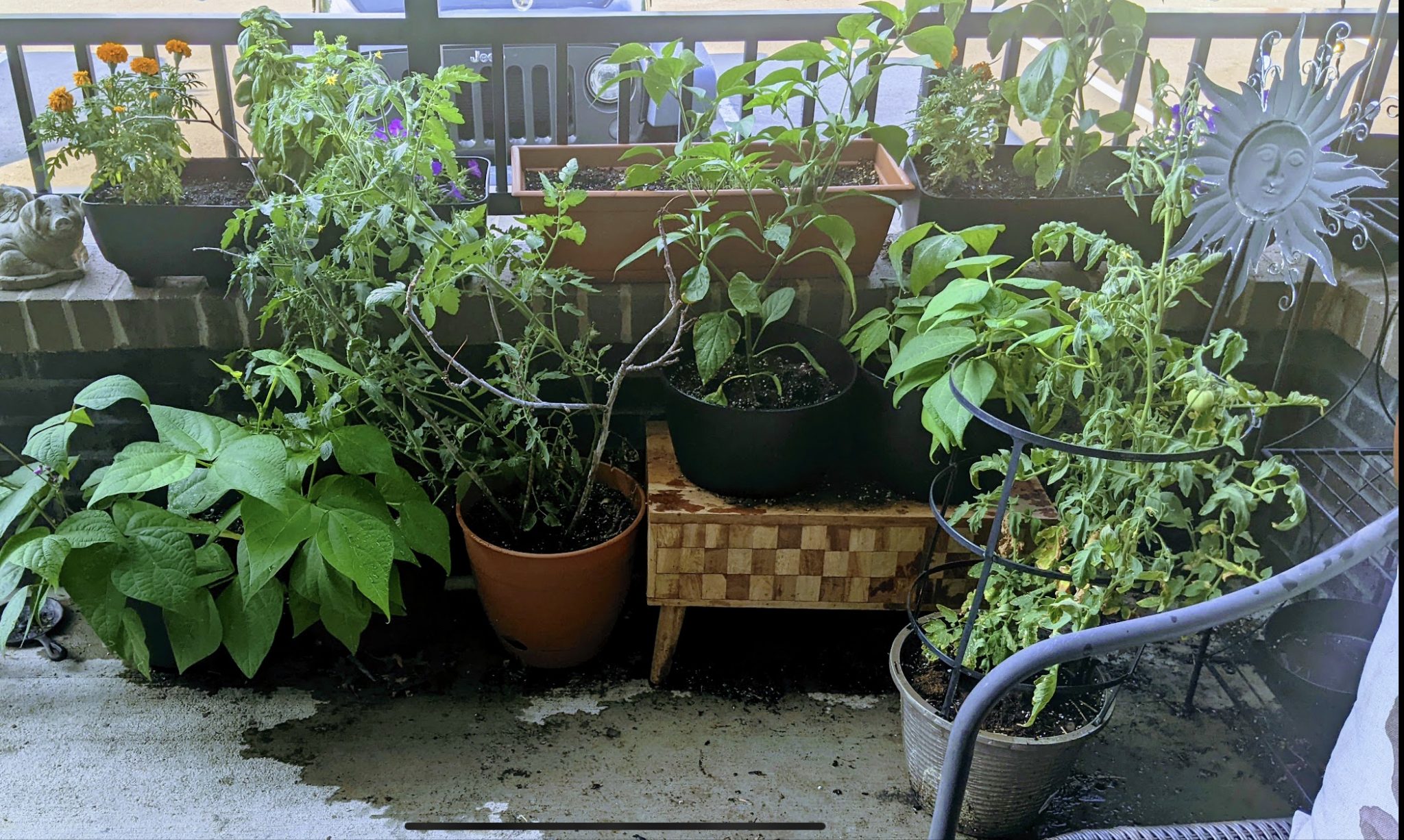 Clearly, I can't grow everything I eat in this space, but I can largely avoid buying produce for several months out of the year. I also like to sprout in the winter and grow herbs and lettuce in my sunny windows. This is intended to be supplemental, not to take the place of other food. It's awfully nice to be able to walk outside barefoot and grab some fresh, nutritious, organic produce every day in the summer.
Here are some resources for small space gardening.
Improve your fitness.
When I lived in the country, there was more activity in my daily life. I was constantly shoveling, lugging, digging, and walking. It certainly kept me fit without additional effort. Living in the city can soften you up if you aren't careful. So can living in a suburban area that isn't very walkable. If physical activity isn't part of your daily routine, then you have to make an effort to add it.
Can you imagine being in a bad situation and being too out of shape to escape it? Or being unable to repair your home because you aren't strong enough? No matter what your physical situation is, you can do things to improve your fitness.
If you aren't suffering from any kind of injury or chronic ailment, try adding steps to your daily life. (Fitbits are great to keep you motivated!) Use the resources around you for fitness. If you live in an apartment complex, is there a pool or gym? Do you live near a school with a track for walking that is open to the public? What about a local park or walking trail?
If you are dealing with an issue that makes exercise difficult, look into seated exercises. DDPY Fitness has routines for people with mobility issues, including workouts from a chair or bed. You can also find stuff on YouTube. Of course, it goes without saying to consult with your doctor before beginning any kind of fitness plan.
Link To Read The Full Article Here
---